Links
Simple, elegant, comfortable and colorful; Shaker style chairs by: Shaker View Furniture.
Schedule a wagon or sleigh ride with High View Farm Belgiums Bill and Darcy Winslow in Harrison. They can even arrange for a bonfire.
Learn more about alpacas and find farms far and wide. AOBA.
Another nice web of alpaca farms, believing that "a rising tide floats all boats" and great information about shearing Gateway Alpacas.
A farm that was helpful to me when I needed it most, Dave Colby Farm Manager at Xanadu Farm Alpacas, in Colorado.
Our newly formed Association in Maine, Maine Alpaca Association. Find most of the farms in Maine listed here.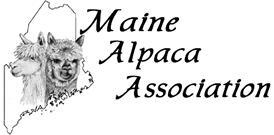 Free listing of alpaca farms organized by state. Alpaca Farms Network.
Directories who list our farm: U.S. City Directory
Hand made Alpaca Products. Ponchos, sweaters, rugs and much more! Wholesale Alpaca
And if you happen to be looking for a horse--try my friends Pat and Cassie Martin at Painted Pony Sport Horses.
Return Home>>